Regal Homes Releases New Luxury Single Family Homes in Manalapan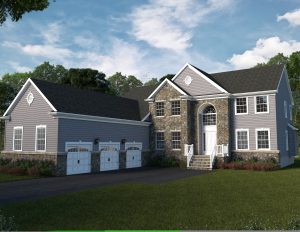 There is a new, exclusive neighborhood of single-family homes in Manalapan, New Jersey that has been recently released for sale by developer and builder Regal Homes. Located on Taylors Mill Road, Milford Estates is the newest collection of single-family homes featuring designs ranging from 3,321 to 3,466 square feet of living space. There are two home plans to choose from, each offering five bedrooms, three-and-a-half to four-and-a-half baths, two to three car garages, and walk-out basements. "We are so excited to bring this new community of only seven homes to buyers looking for new construction in Manalapan. Each home will be built on three-quarters of an acre lot and the prices are starting in the upper $600,000's," according to Diane Lowande, Sales Manager for Regal Homes.
"Manalapan is one of the most desired locations in Monmouth County and there are very few new homes of this caliber to be built for buyers." Lowande continues. With a central location between the New Jersey Turnpike and Route 18, Milford Estates offers quick access to Routes 9, 18 and 33. The area's top-notch venues for fine dining and shopping, such as the Freehold Raceway Mall, Downtown Freehold, and historic Princeton are just a car ride from the community. Center Players in Freehold, as well as PNC Bank Arts Center in Holmdel and NJ State Theater and New Brunswick Performing Arts Center in New Brunswick offer year-round Broadway style local entertainment. There are also a multitude of public and private golf courses, and all the activities and beaches of the New Jersey Shore are all within close proximity to Milford Estates' Manalapan location. Commuting to Philadelphia or New York City is easy as well, with bus or rail service to Port Authority and Pennsylvania Station.
For families with children the schools in Manalapan are part of the highly rated Manalapan – Englishtown Regional School District which has earned an overall rating of 9 on the Great Schools rating scale, making Milford Estates a highly desirable neighborhood for families with school-aged children. While children are currently distance-learning, the students at Milford Estates can look forward to the time when schools reopen after the quarantine is over.
There are already two homes under deposit at Milford Estates, with many more families interested in learning more about purchasing a new home in the community. Lowande comments, "With as much pre-construction interest as we have had for these homes, I don't see them lasting very long. Even though we are dealing with the pandemic and social distancing, it hasn't stopped serious buyers from inquiring and making private, safe appointments to learn more. We are currently accepting non-binding deposits and will work toward moving through to contract with our buyers. Any buyer going to contract between now & June 15th will receive an upgraded Samsung Stainless Steel French Door with Family Hub Refrigerator. I'm also excited to announce than anyone on our VIP list that goes to contract before June 15th will receive a free exterior façade stone upgrade where shown on plan." Regal Homes invites interested homebuyers to make an appointment on Sundays or Mondays with the site Sales Manager by calling 732-866-3925. For more information on Milford Estates visit Regal Homes' website at http://regalhomesnj.com/residential/milford-estates/.