Swift Sales This Winter Leave Just Nine Homes Remaining at Hawke Pointe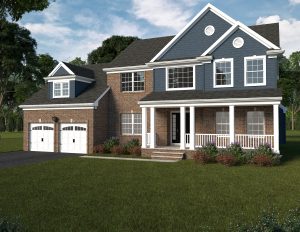 Hawke Pointe has experienced tremendous sales activity this winter and as a result, the neighborhood of single-family detached homes in Howell, New Jersey has just nine homes remaining for sale. With buyer demand remaining at an all-time high, buyers have been setting appointments with the sales team to learn about the homes, available lots, and available options. With just nine lots remaining, several of which are walk-out basement homes, Hawke Pointe is currently starting at $734,990. These beautifully appointed homes feature four bedrooms, two-and-a-half baths, and a two-car garage with approximately 2,700 – 3,100 square feet of living space. There are three designs to choose from with plenty of ways for buyers to upgrade and personalize their new home. With energy efficient systems, as well as luxurious standard features including dramatic open-concept floor plans, spacious kitchens boasting beautiful cabinetry and granite countertops, and elegant master suites. Interested buyers are encouraged to contact the sales team at 732-476-3116 for more information or to schedule a private appointment.
Nestled in one of Monmouth County's most desirable locations, Hawke Pointe offers homebuyers the best Howell Township has to offer with all the necessities today's families need close by. "Howell is centrally located and perfect for families looking for ease of access to everything they could possibly need but in the relaxing environment of our community at Hawke Pointe," Rosemarie Bell explains, "With the community at Hawke Pointe set back from Oak Glen Road, families can enjoy the quiet neighborhood while still having quick access to recreation, schools, and main thoroughfares like I-195, Route 9, and the Garden State Parkway." Interested families are encouraged to act now to take advantage of current low-interest rates.
"All winter long, serious buyers have continued to shown great interest in Hawke Pointe, and our sales office is open by appointment," Bell continues. Regal Homes invites interested families to visit the site's website at www.RegalHomesNJ.com/Residential/Hawke-Pointe or call the sales team at 732-476-3116 to learn more about the community and view the community's home and site plans.